3 Reasons to Choose DSD Temporary Power Boards
DSD Temporary Power Boards have taken over the market. Want to know why? We have made these boards feature-packed and price competitive.  You won't need to look elsewhere. We have listed 3 reasons why everyone is choosing DSD Temporary Power Boards.
With so many options on the market for construction site temporary power boards, it can be overwhelming trying to find the best suitable board for your project. We have taken care of the temporary power boards for you, saving you precious time in your day to focus on the more important project objectives.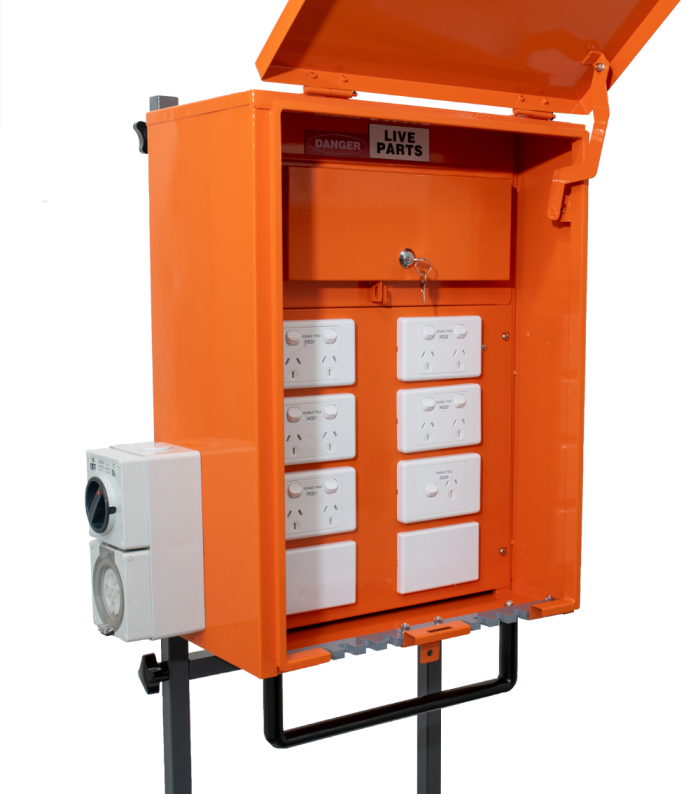 Why Our Temporary Power Boards?
Compliance
Our temporary power meets are one of the most compliant and up to date boards on the market. Meeting the following standards.
New updates to the AS/NZS 61439.4
Are your boards compliant? With the announcement of new updates to the AS/NZS 61439.4, in effect May 2021, Design Switchboards and Distribution immediately jumped into R&D to ensure their temporary power board range met the rigorous requirements.
The most important change to the standard is the temperature rise testing of boards. To verify to AS/NZ 61439.4, boards must be temperature rise tested to ensure that all components can operate within the individual specified temperature ratings while considering heat generated within the board. An additional requirement is that all boards are rated at a minimum of IP 44.
Currently, they are one of few companies on the market offering fully compliant temporary power boards for construction sites. Martin Evans, Design Switchboards and Distribution representative, supports initiatives to increase compliance in electrical product manufacturing.
Feature Packed
The result of our R&D venture was an IP44 temporary power board packed with features.   Consequently, it's proving to be popular on some of Queensland's biggest projects.
We have created temporary power boards designed with the contractor in mind. The boards are completely wired and can be unloaded and set up on any construction site in less than a minute.  Best of all, no access to the board is required.
We have a range of single-phase or three-phase DSD Temporary Powerboards. Available custom features such as extra GPOs and light brackets make it a versatile board.
Lightweight, portable to any site, easy to manoeuvre into position with stands that are easy to dismantle for storing between jobs and highly robust.  It's completely compliant with AS/NZS3012:2010 ensuring a safe and secure work site for contractors of all trades.
Major Projects Compatible and Customisable
The result of this impressive new feature-packed temporary power board is that contractors are enjoying its versatility.
Partnering with Haymans Electrical, to provide a temporary power solution to the $3.6B Queen's Wharf Brisbane development was a big milestone, proving R&D to be a valuable investment.
Everyone is choosing a winner! Will you partner with us next? We have the most popular solution in temporary power and by now you would have seen our boards on site. With Australia-wide distribution and service, we want to power up your next project with quality service and products built to last. Take a look at the features and order today!
"These products are an investment, we wanted to ensure that our clients experience the value of partnering with us.  We acted quickly to ensure that the boards were designed and built to meet the new standards. They have passed stringent testing by independent, certified laboratories."
Martin Evans
Design Switchboards and Distribution
Comparing D.S.D Temporary Power Boards
We have done the hard work for you and compared the features of our market-leading board with IPD Temporary Powerboards.
Design Switchboards and Distribution Temporary Powerboards
Product Code
DSD TPB-3PT5.532
DSD TPB-3PT4
DSD TPB-1PT3
1Phase/3Phase
Three Phase
Three Phase
Single Phase
Main Switch
100A 3P Isolator, Wired from Single Pole on Load Side
100A 3P Isolator, Wired from Single Pole on Load Side
100A 3P Isolator, Wired from Single Pole on Load Side
RCD
40A 4P, 6kA/td>
No
No
RCBO
20A 1P, 6kA, Double Pole
20A 1P, 6kA, Double Pole
20A 1P, 6kA, Double Pole
GPO Points
5 x Double Gang,10A Outlet; 1 x Single Gang,15A Outlet
4 x Double Gang,10A Outlet; 1 x Single Gang,15A Outlet
3 x Double Gang,10A Outlet; 1x Single Gang,15A Outlet
Spare Din Space
Yes
Yes
Yes
Three Phase Outlet
1x 5 Pin 32A Switched Socket Outlet
No
Daisy Chaining
165A Sealable Active Link for 25mm Mains. Option Available for 35mm Mains
165A Sealable Active Link for 25mm Mains. Option Available for 35mm Mains
No
High Visibility
X15 Orange
X15 Orange
X15 Orange
Ingress Protection Rating
IP 44
IP 44
IP 44
Lockable RCD and Enclosure
Yes
Yes
Yes
Insulated Lead Hook
Yes
Yes
Yes
Stand/Wall mount
Stand and Wall Mount
Stand and Wall Mount
Stand and Wall Mount
Tray
Yes Custom Option
Yes Custom Option
Yes Custom Option
Compliant and Type Tested
Yes (AS 3000 Compliant, AS 3012 Compliant, AS/NZ 61439.4, AS 60529,
AS 60947)
Yes (AS 3000 Compliant, AS 3012 Compliant, AS/NZ 61439.4, AS 60529, AS 60947)
Yes (AS 3000 Compliant, AS 3012 Compliant, AS/NZ 61439.4, AS 60529, AS 60947)
IPD Temporary Powerboards
Product Code
IPD TEMPPR3PF*
IPD TEMPPR3PB*
IPD TEMPST3PF*
IPD TEMPST3PB*
IPD TEMPST1PF*
IPD TEMPST1PB*
1Phase/3Phase
Three Phase
Three Phase
Three Phase
Three Phase
Single Phase
Single Phase
Main Switch
1 x 63A 3P MCB Main Switch
1 x 63A 3P MCB Main Switch
1 x 63A 3P MCB Main Switch
1 x 32A 3P MCB Main Switch
1 x 63A 1P MCB Main Switch
1 x 32A 1P MCB Main Switch
RCD
No
No
No
No
No
No
RCBO
2 x RCBO for lighting including test point
1 x RCBO for lighting including test point
No
No
No
No
GPO Points
8 x Doubl 10A GPO; 1 x Double 15A GPO
6 x Double 10A GPO; 1 x Double 15A GPO
5 x Double 10A GPO; 1 x Single 15A GPO
3 x Double 10A GPO; 1 x Single 15A GPO
5 x Double 10A GPO; 1 x Single 15A GPO
3 x Double 10A GPO;1 x Single 15A GPO
Spare Din Space
Yes
Yes
Yes
Yes
Yes
Yes
Three Phase Outlet
1 x 32A 5 Pin Outlet
1 x 32A 5 Pin Outlet
1 x 32A 5 Pin Outlet
No
No
No
Daisy Chaining
Tunnel terminals for incoming and outgoing cables up to 35mm2
Links for daisy chaining 35mm2 cables
No
Links for daisy chaining 35mm2 cables
No
High Visibility
Yellow
Yellow
Yellow
Yellow
Yellow
Yellow
Ingress Protection Rating
IP 23
IP 23
IP 23
IP 23
IP 23
IP 23
Lockable RCD and Enclosure
Yes
Yes
Yes
Yes
Yes
Yes
Insulated Lead Hook
Yes
Yes
Yes
Yes
Yes
Yes
Stand/Wall mount
Stand
Stand
Stand
Stand
Stand
Stand
Tray
Yes
Yes
No
No
No
No
Compliant and Type Tested
Fully compliant with AS/NSZ3012
Fully compliant with AS/NSZ3012
Fully compliant with AS/NSZ3012
Fully compliant with AS/NSZ3012
Fully compliant with AS/NSZ3012
Fully compliant with AS/NSZ3012
*As per information available publicly