Caboolture Hospital Project
A major QLD infrastructure project: Caboolture Hospital Redevelopment is estimated to be worth A$399.5 million . DSD will be providing their marketing leading temporary site power board, customised for project specifications. 
Market Leading Temporary Power Board
Design Switchboards and Distribution was approached to provide a customised option for their market-leading temporary power boards.
Project Details
Over the next three years, Caboolture Hospital will undergo a major expansion and redevelopment to build a bigger and better hospital with more health services and improved parking for the community.
By 2023, the $399.5 million project will deliver a new five-storey Clinical Services Building, a new Multi-Storey Carpark, an expansion and refurbishment program that will enhance and modernise spaces within a number of areas of the existing hospital and the relocation of Building Engineering and Maintenance Services (BEMS) into a new facility.
A significant refurbishment program will also be delivered as part of the Caboolture Hospital Redevelopment to enhance and modernise target spaces within the existing hospital. The refurbishment program is expected to commence in 2023 and be finished in early 2024.
Enhanced and expanded Special Care Nursery with 15 bays
Medical Day Unit
Aboriginal and Torres Strait Islander Liaison Unit
Transit Lounge
Community Connect
Kitchen refurbishment
New Central Sterilisation Department
New 8-chair Day Chemotherapy Unit
Expanded Pharmacy, Pathology and Medical Records
Upgraded and expanded Morgue, Dock and Stores
The Caboolture Hospital Redevelopment provides the community with access to a modern health facility and new specialist healthcare services, meaning patients can be treated closer to home, rather than always having to travel to larger facilities for treatment.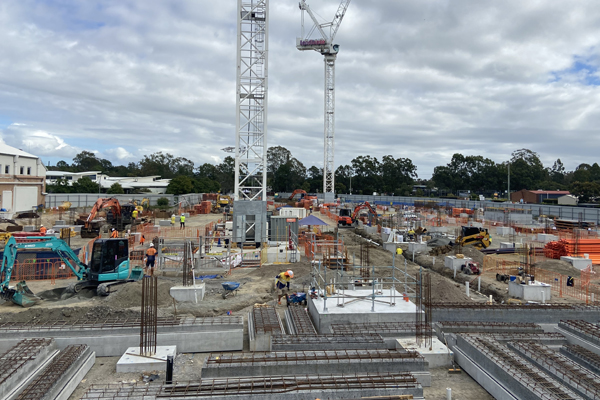 Product Features To Suit Project
Immediate delivery short lead time.
Light Circuits, Emergency Lighting, Additional GPOs, Additional Mains Switch, Accessory Shelf, Cable Supports.
Highly contest project for temporary power.
Spread over two separate projects 275 customised 3 Phase temporary power boards.
Compliant with AS/NZS 3012 and to the new AS/NZS 61439.4.
Rated ingress protection IP 44.
Along with the Gatton Prison project, this was a hight contested project in which DSD has had an early involvement. Caboolture Hospital Project requirements were very extensive and required D.S.D to think outside the box to meet scope. We used our specialised standard temporary site power boards and created something unique for this major project. You're in good hands with D.S.D and we are proud to support local contractors with their major projects. Let's talk about your next project!